"Medicine should be viewed as social justice work."
Jevaia Foundation
Nepal Oral Health Project
What We Do
Jevaia Oral Health Care uses a human-rights approach to establish primary oral health care in rural areas of Nepal, in collaboration with Nepal's government health care system. Our model is designed to be scalable, publicly owned, and most importantly, to prioritize the needs and rights of Nepal's rural communities.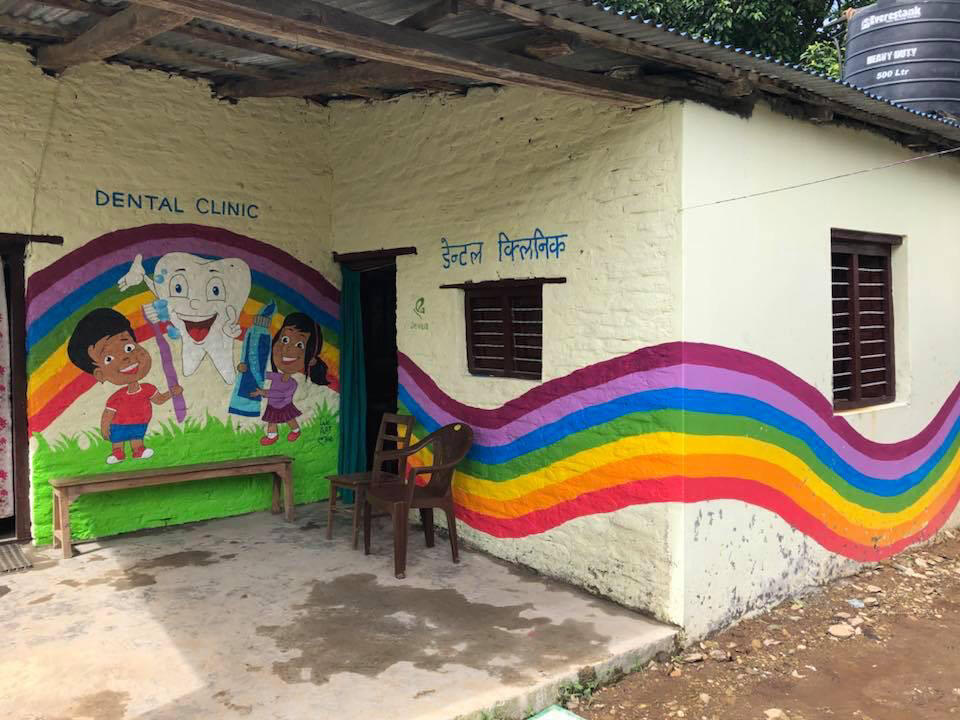 Who We Are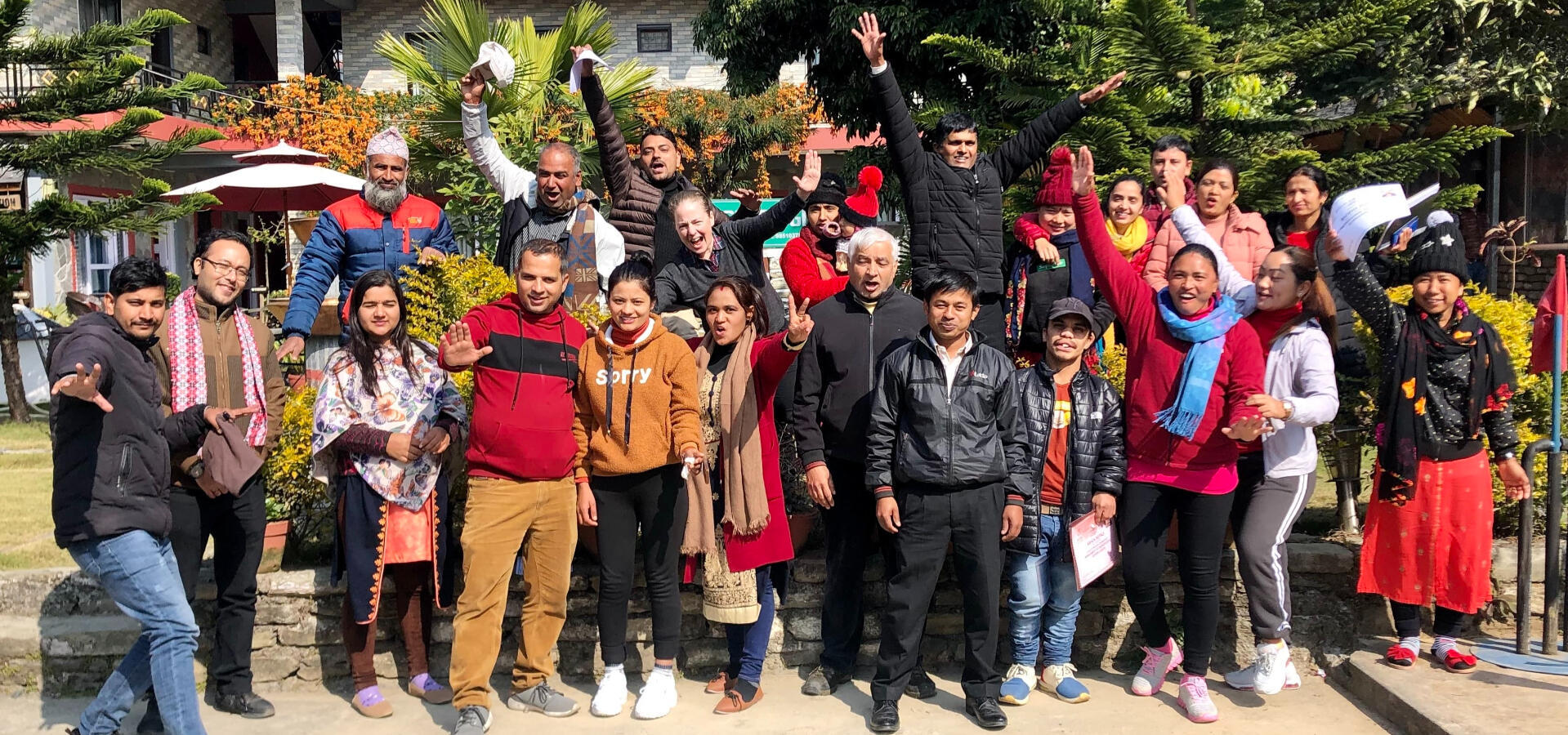 We are a creative team of rural health professionals, social mobilizers, educators and a small but mighty admin staff. Our community-based model works in collaboration with local government bodies and is primarily implemented by auxiliary health providers and school teachers in their own communities.
Primary Care Dental Clinic
Auxiliary medical professionals, local to their communities, deliver the Basic Package of Oral Care in a weekly clinic in a government health post. It includes topical fluorides (FV, SDF), atraumatic fillings (ART), and simple extractions using local anesthetic.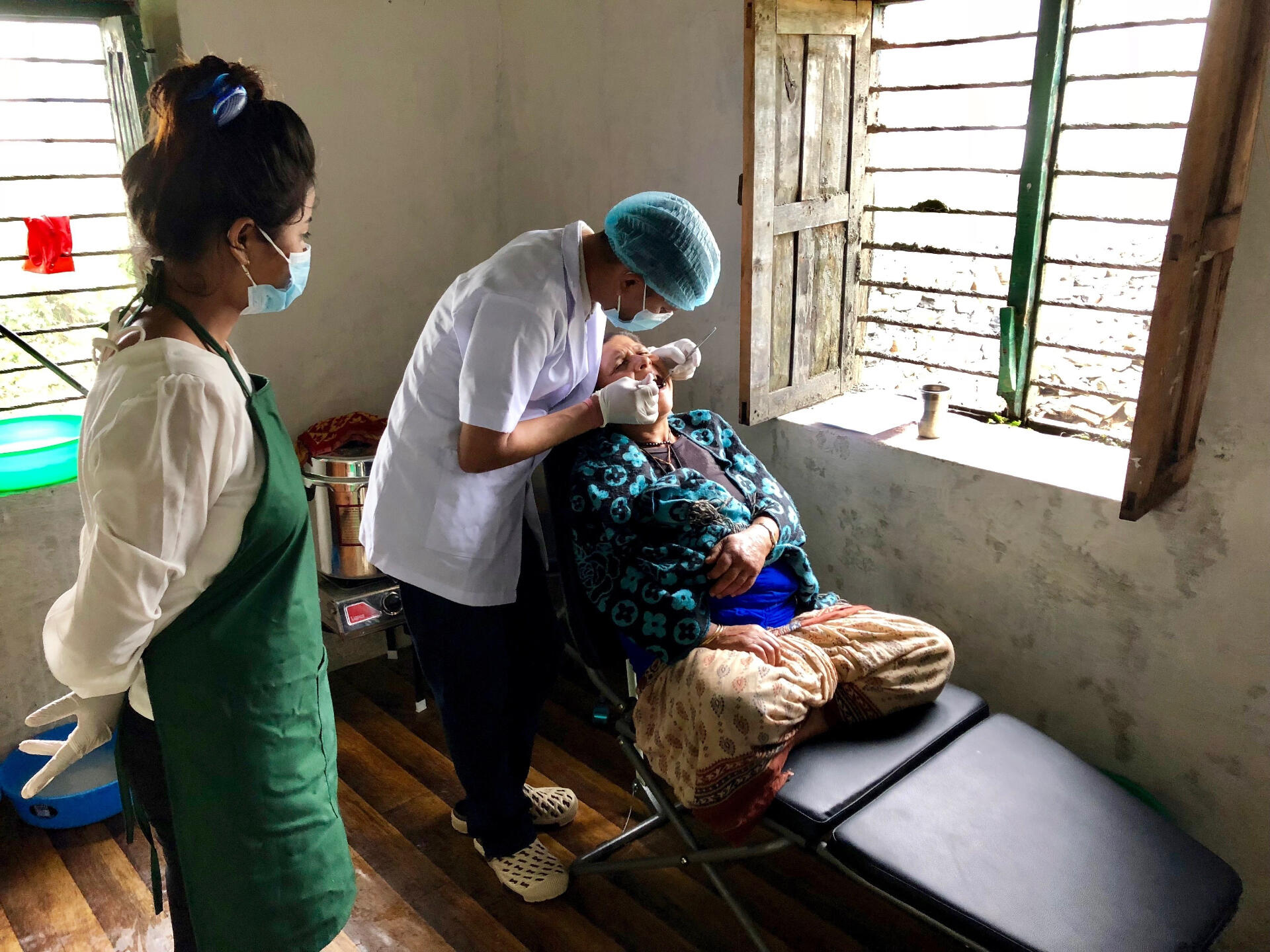 We work from a human rights perspective that prioritizes the right to care. Weekly primary care dentistry in the public health facility provides access to dignified, appropriate health services for all members of the community regardless of age or socioeconomic status.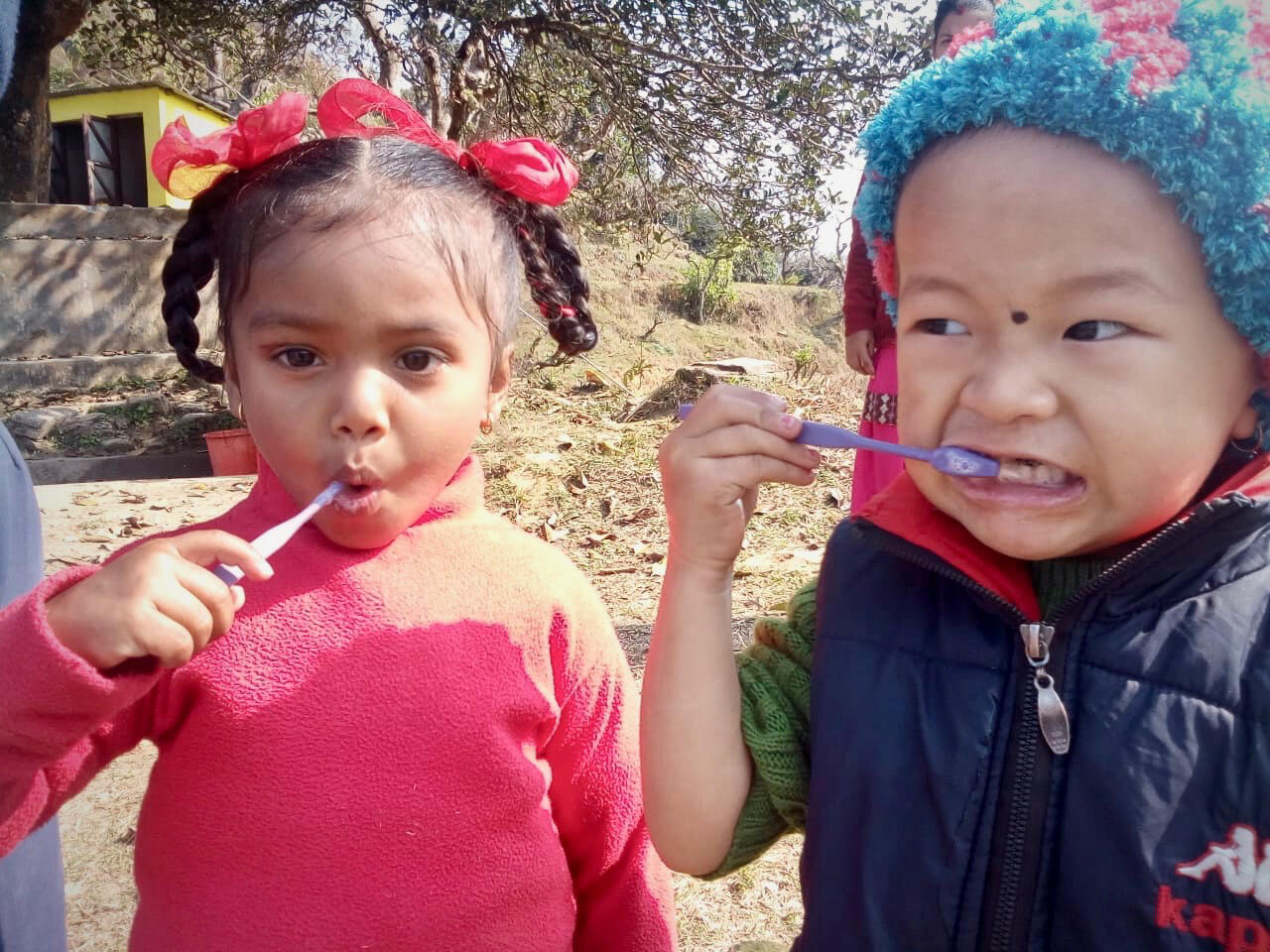 School Smiles
Daily Toothbrushing and Junk-Food Free schools are run by teachers trained as Oral Health Coordinators. The school brushing program is sustained through community-based efforts by parents, local shops, and school management committees. Each quarter, schools can enter a social media oral health promotion competition on a theme: singing, drawing, poetry, and more.
School Based Oral Health Care
Clinical teams provide almost three quarters of all treatment at "school seminars." The school outreach program includes on-site clinical care for all students, as well as screening, referral and some treatment for teachers and parents.
Clinicians receive extensive, ongoing professional development in patient-centered, child-friendly practice. We strive to create a nonthreatening environment that will be the foundation of lifelong care.
Community outreach
Clinical teams spend more time in community spaces than in the clinic. Outreach programs focus on health promotion through discussion, group problem-solving, and experience sharing. Technicians provide free screening and preliminary treatment in the field, referring patients back to the weekly local dental clinic for further care. Hundreds of patients annually are also referred to a partner hospitals from the primary point of care.
Rupa Municipality
Hira Devi B.K. - Technician
K.P. Acharya - Mentor Technician
Suraj Shrestha - Clinic Assistant
Ganga Thapa - Clinic Assistant
Kamala Khadka - Clinic Assistant
Prashanna Subedi - Team Leader
Pramila Shrestha - Team Leader
Sawabaks Miya - Team Leader
Tilhar, Katuwachaupari & Pipaltari
Ram Prasad Subedi - Technician
Mandipa Budhathoki - Technician
Tara Kumari Rakhal - Technician
Ashok Nepali - Clinic Assistant
Parbati Adhikari - Clinic Assistant
Bolanath Parajuli - Team Leader
Ranjana Pariyar - Team Leader
Sindure
Coming Soon - Technician
Coming Soon - Clinic Assistant
Shova Dura - Team Leader
Kaskikot & Sarangkot
Dipendra Timilsina - Technician
Isha Sharma - Clinic Assistant
Renuka Subedi - Clinic Assistant
Salik Ram Subedi - Team Leader
Lwang Ghalel
KP Acharya - Technician
Laxmi Bhandari - Clinic Assistant
Bhakta B.K. - Team Leader
Nepal Board
Govinda Paudel - Co-Founder and President
Padam Pahari - Board Member
Shanti Shrish - Board Member
Sanjay Atreya - Board Member
Anusuya Joshi - Board Member
U.S. Board
Don Spero - Chairman of the Board. New Markets Ventures, University of Maryland Dingman Center for Entrepreneurship
Herb Behrstock - United Nations Development Program, Asia Representative
Nancy Chasen - JD, Public Interest, Media
Laura Spero - Master of Social Work/Human Rights Concentration, Jevaia Co-Founder
Prashant Koirala - MBA, Metron Labs, Acuitas Labs
Advisors and Friends of Jevaia
Tula Ram Sijali
Sanjaya Atreya - Kidasha (Nepal)
Dr. Kiran Awasthi, DDS, MPH - Save the Children (Nepal)
Kathy Kretman - Director, Center for Public & Nonprofit Leadership, Georgetown University, (Washington D.C.)
Hon. Marjorie Margolies-Mezvinsky - Director, Women's Campaign International (Pennsylvania)
Sam Worthington- CEO, InterAction (Washington, D.C.)
Allen Snyder - Attorney, (Washington D.C.)
Ambassador Charlene Barshefsky - (Washington D.C.)
Rajeev Goyal - Co-Director KTK-BELT, Former Peace Corps Nepal Volunteer (Nepal)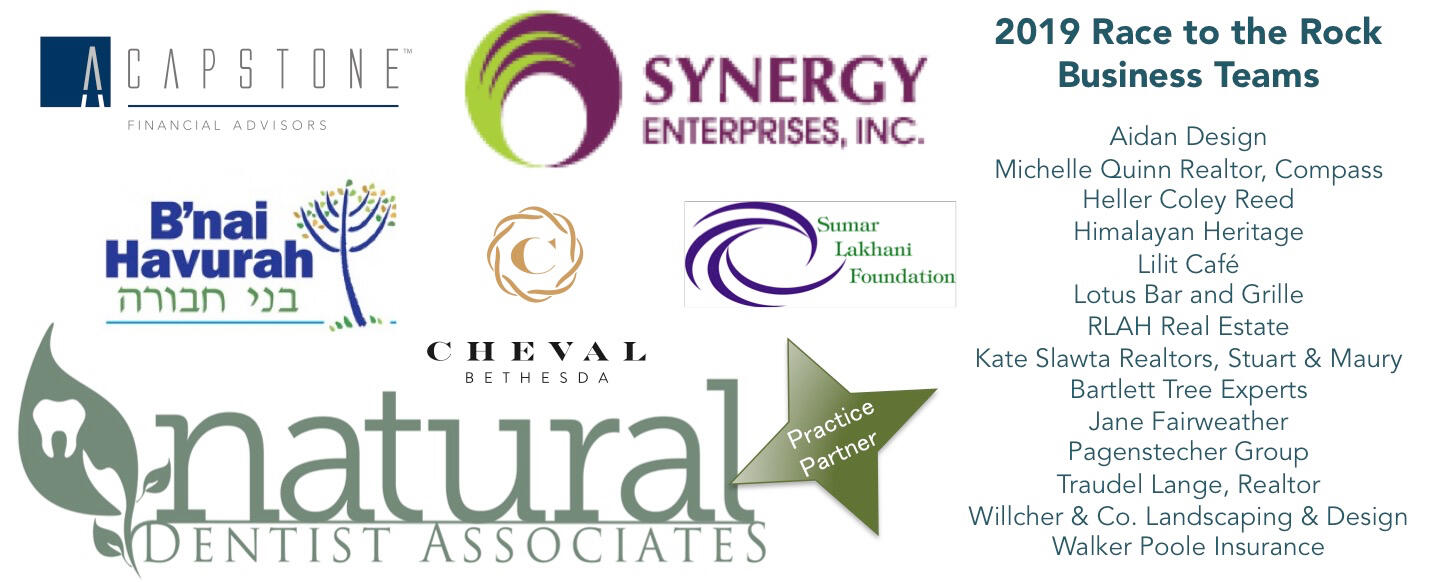 The Augmented Basic Package of Oral Care
(BPOC+)
The Basic Package of Oral Care (BPOC) was developed in 2002 by the World Health Organization's Oral Health Collaborating Center in the Netherlands. It is designed to be safely and effectively delivered by allied health professionals in limited resource settings. Unlike conventional hospital-based clinical care, BPOC techniques focus on preventative and primary care dentistry and relief of pain services. Our version, the "augmented" BPOC, also includes topical fluorides, so we call it the BPOC+.
Fluoride Varnish
A painless topical medication that mineralizes
enamel to prevent decay.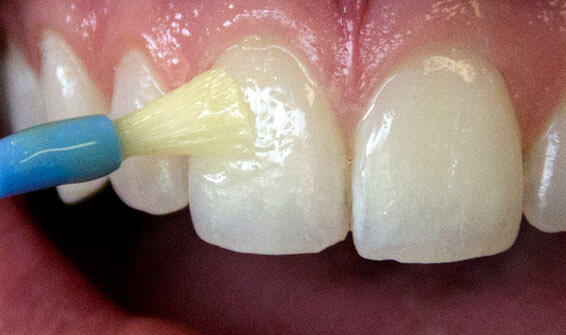 Accessible Fluoride Toothpaste
Daily toothbrushing with fluoride toothpaste is essential Basic Care.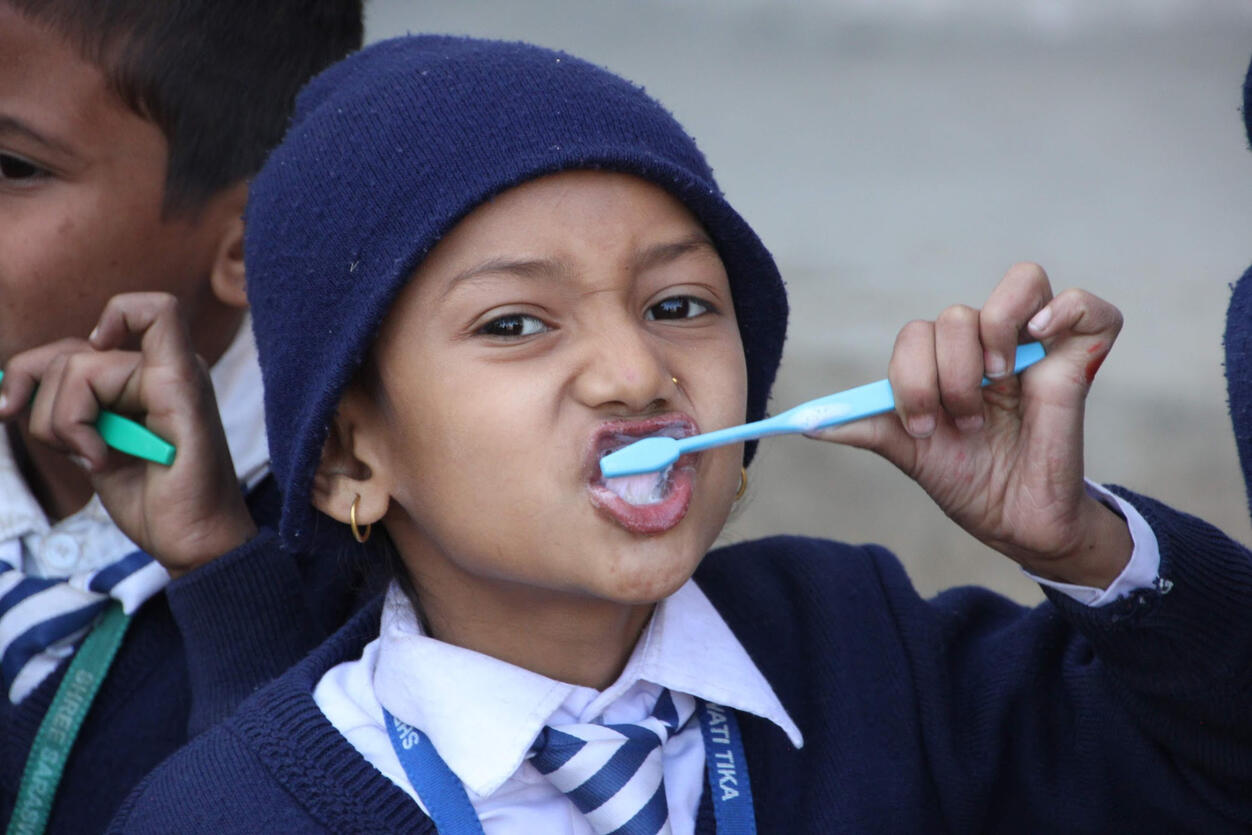 Silver Diamine Fluoride
A topical fluoride-silver mixture that
painlessly arrests decay.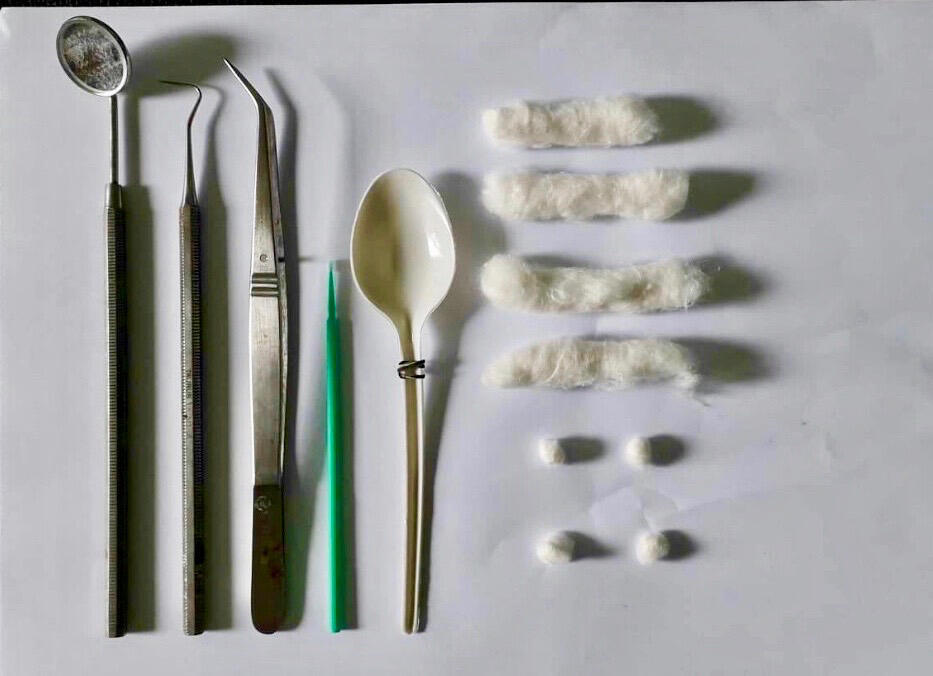 Simple Extraction
Relief of pain by extraction of teeth that can be safely removed with local anesthetic.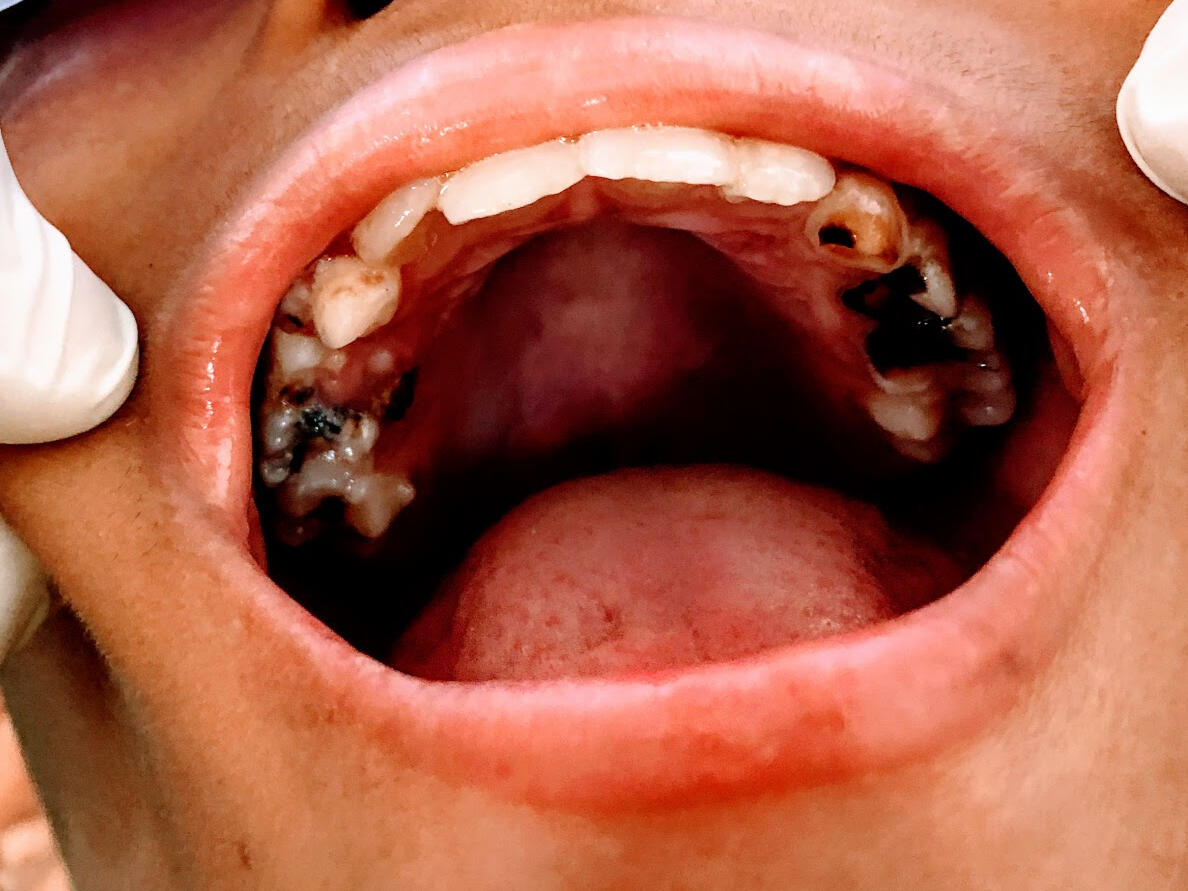 Quality of Care & Human Rights
International Human Rights documents guarantee all people the right to "the highest attainable standard" of health care. But too often, health care in limited-resource settings is "good enough" or "better than nothing." Jevaia Foundation has spent over a decade developing standardizable quality of care protocols for the BPOC+.
World Health Organization
Quality of Care Framework
Safety
Effectiveness
Timeliness
Efficiency
Equity
People-Centeredness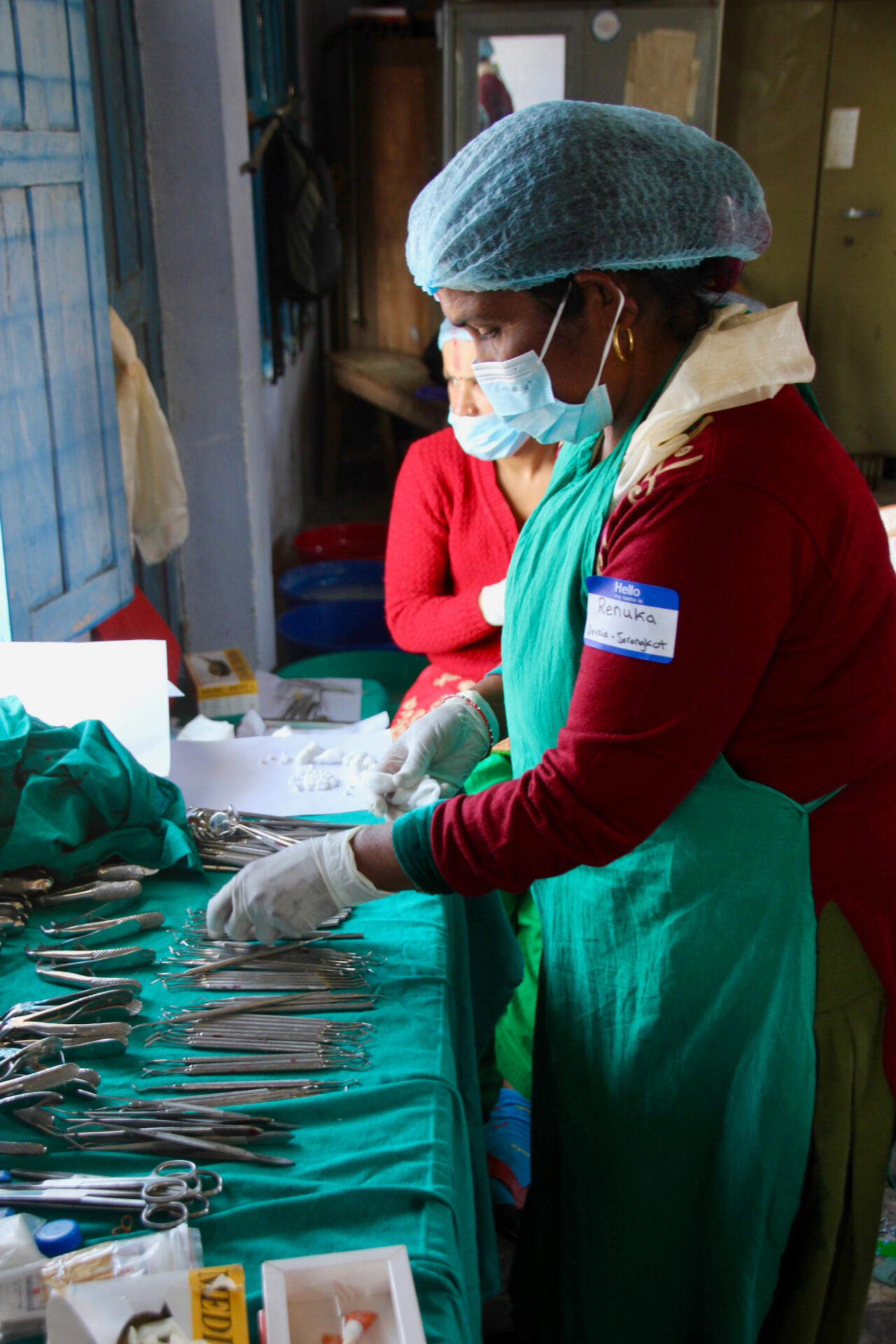 Clinical Protocols
√ Standard, patient-friendly clinic setup designed specifically for rural health posts, with painted walls, portable dental chair, and other furniture and materials.
√ Infection Control Protocol developed for rural health post settings and posted in large-print Nepali language in every clinic.
√ Each Primary Oral Health Provider works with a trained assistant to implement clinic protocols.
√ Documentation tools and formats appropriate for BPOC+ delivery in by auxiliary health workers in rural settings.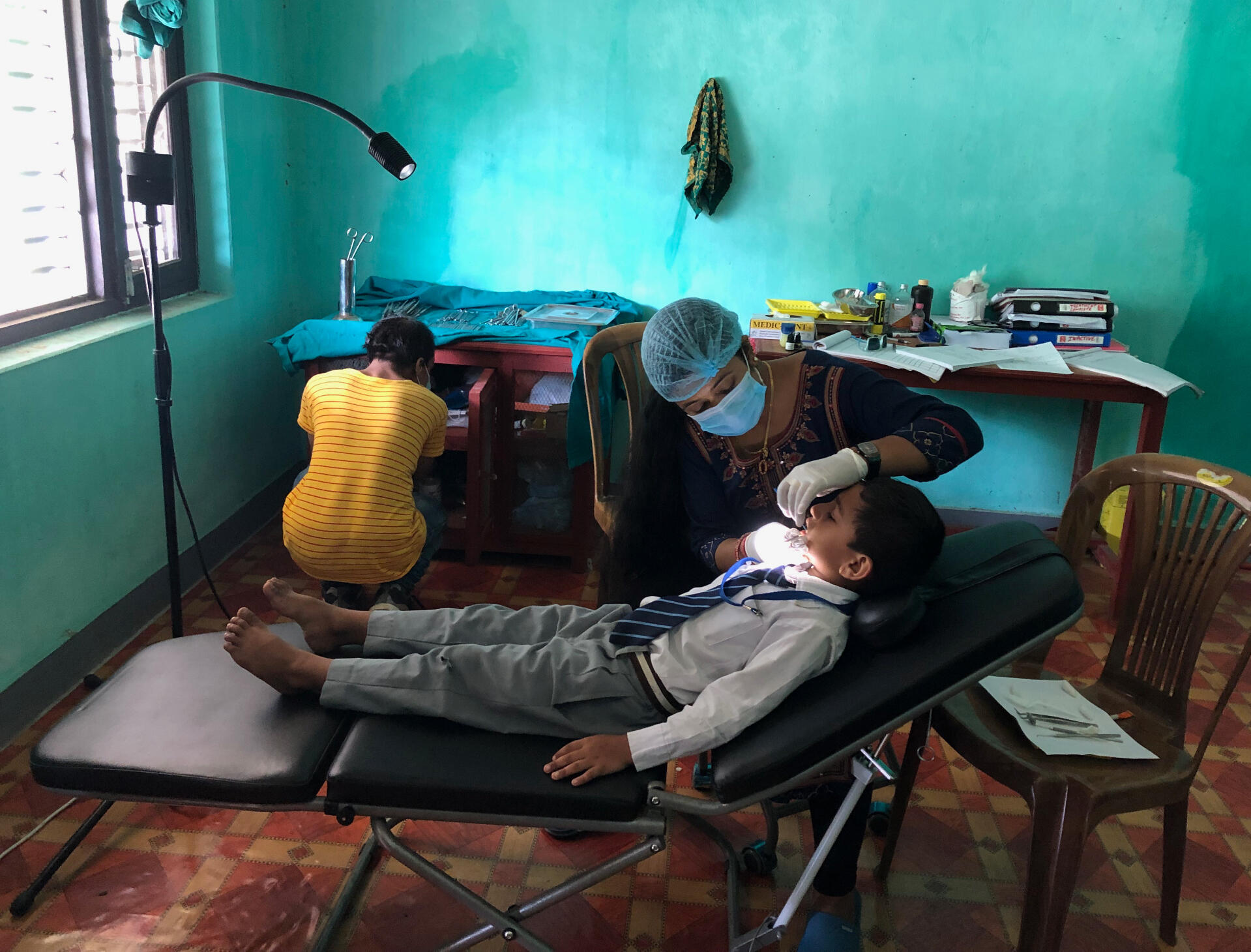 Professional Development
Every six months clinicians attend professional development with dentists, community dentistry specialists, public health experts, and more. Topics covered are specific to primary-care BPOC+ delivery in Nepal, and have covered topics such as as patient counseling; BPOC+ with conditions common to older adults; full-mouth SDF application; treatment planning; infection control; differential diagnosis and referral; adverse event management.
Competency Certification
Dental Technicians maintain an annual competency certification based on international criteria. Jevaia Oral Health Care is advocating for this competency framework to be a standard part of BPOC+ care anywhere in the world.
Dental Hub
Dental Hub is an open-source app created to support BPOC+ delivery by auxiliary providers in primary care settings. Its people-centered design prioritizes easy patient follow-up and referral for auxiliaries who work in communities where they are familiar faces.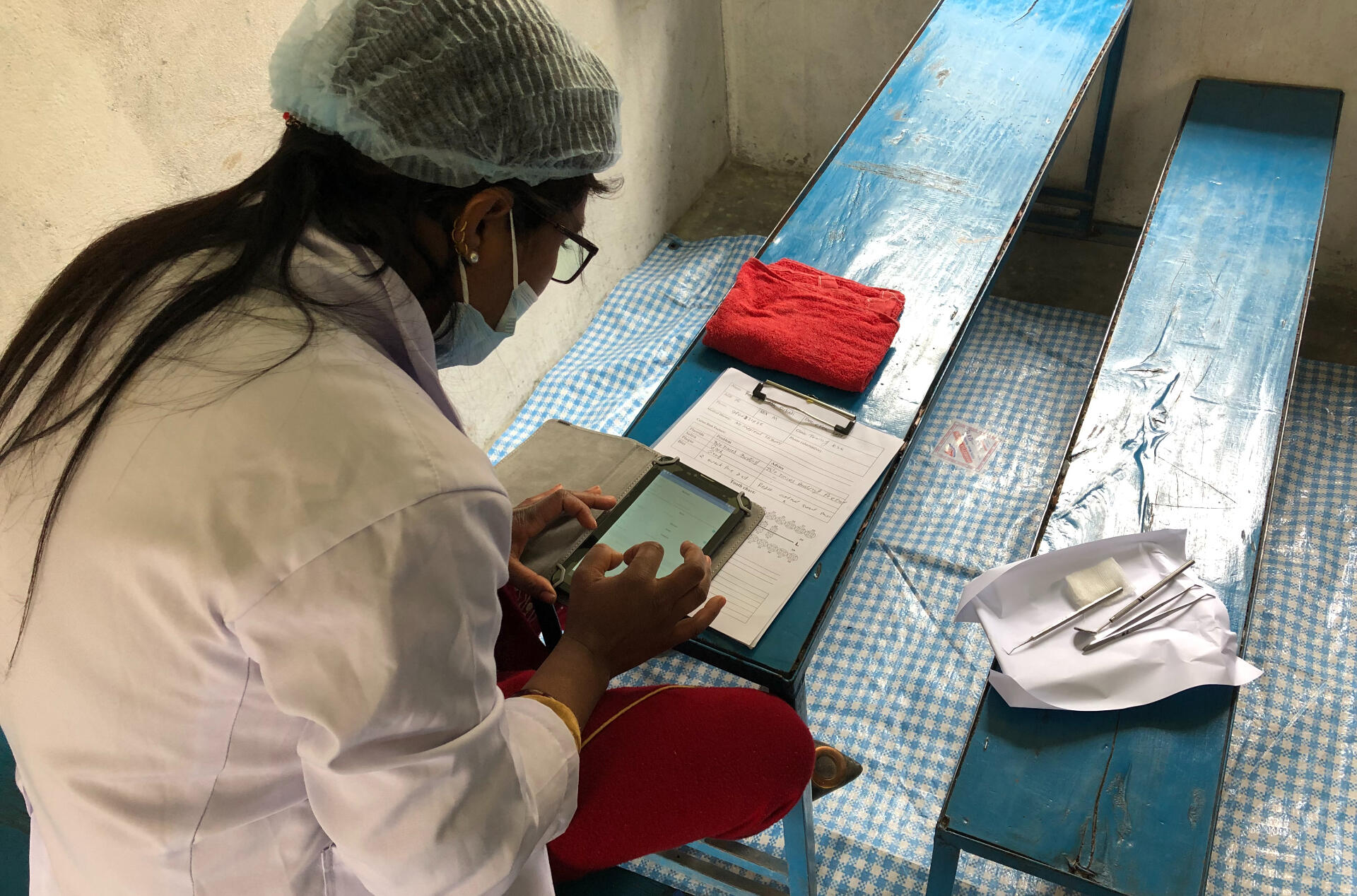 Dental Hub was developed in collaboration with Abhiyantrik Technology in Kathmandu, Nepal. Key public health metrics collected through Dental Hub are building a database of powerful population health trends that can be used to continually adjust delivery of care based on the needs of Nepal's rural communities. Our real-time web interface provides up-to-date analytics of Dental Hub data.
In a time when tele-medicine is rapidly advancing in ways that are clinician-focused and often draw autonomy away from frontline health workers in rural areas, Dental Hub is designed around dental auxiliaries as experts in the BPOC+. Its purpose is to support and enhance the technician-patient interaction, strengthen the care pathway through documented referrals, and provide much needed evidence around BPOC+ implementation at a systems level.
For fifteen years, Race to the Rock has been loosely based on a whitewashed story of the Mayflower, with runners racing from "England" to "Plymouth Rock." We recognize that this theme has casually glorified the violence of colonialism, which led to genocide against Native American peoples who continue to be subjected to apartheid today.In 2019, our organizers began taking steps to shift the meaning and focus of our race name. We did away with English flags at the start line, introduced rock painting, and removed language about pilgrimage from our race materials. These changes were long overdue.In 2020, we are said goodbye to our "Useful Item" and Costume Contests. We had lots of innocent fun with these over the years: adults dressed as squirrels and running around the block in recycled halloween costumes. We were also party to the appropriation of Native American symbols and dress. Similarly, we raced with items that would have been useful on the Mayflower - barf bags, puzzles, toilet paper, and gadgets of all kinds. But we did not acknowledge that over 10 million Africans made the transatlantic journey in slave ships. We played games alongside one of the gravest human rights abuses in the history of mankind.We unflinchingly state: Black Lives Matter. We grieve the injustices of colonization and the centuries of wrongs against Native peoples on their own land. We acknowledge that there is much work ahead and that our event has, in the past, perpetuated racist harms. We offer apology, and also recognize that actions matter far more than words.Race to the Rock no longer has a "Useful Item" contest. Instead, we invite you to run with a poster, t-shirt or other statement of solidarity with a cause you care about and share your photos through our facebook page and other social channels.We're still dressing up! The categories are ROCKSTAR and CULTURAL HERITAGE. 1) Give us your best rockstar: rock some spandex; run with a guitar; dye your hair, or rock it out any other way you can think of. Or, 2) Share your most colorful, powerful and authentic celebration of your cultural heritage. (We ask all participants to be conscious of dress choices that inappropriately co-opt Indigenous traditions if these were not inherited from your own ancestors).There is one Race to the Rock contest, with prizes at stake: ROCK PAINTING! (More here)
This contest is fierce. The categories are #inspirational, #petrock, and #abstractart.We have retained Plymouth Rock as an organizing symbol of our race name. You will see the Plymouth Rock tree in the many photos we've taken over the years. Whether or not this remains appropriate is still a point of ambiguity that we acknowledge.Jevaia Foundation is explicitly committed to human rights principles in our work in Nepal. As our founder, I humbly invite feedback, criticism, and ideas, shared in any format, about how we can better implement our values here at home and particularly at Race to the Rock.
1. Go rock hunting. The best rocks have at least one pretty smooth surface, but may also have some cracks or interesting features that look like a nose, or a mountain, or otherwise inspire your creativity!2. Wash the dirt off your rocks and leave them out in the sun to dry for a day.3. On all your rocks, use an

acrylic white paint

to cover the side of the rock you want to paint. (It doesn't have to be white, but that's the easiest background to paint on top of.) Acrylic will stick to your rock really well, but it will also stain your clothes, so make sure you paint on newspaper and maybe even outside. Give the background color a day to dry.4. If you're adventurous, you can do your whole rock design using acrylic paint, which is easy to find at a stationary store. Or look for

acrylic paint markers

, which are neater and easier to use than brushes, and come in different thicknesses. Watercolor paint will not stick to your rock! The tricky part about using paint is it's a little messy, and you have to give the rock time to dry.Another option, which we use at the race, is to decorate your rock using

colored sharpies

. It's easier to make detailed designs with markers, and of course they dry immediately.If you really want to go all out, you can add

glitter glue

(it's a lot easier than glue + glitter...that will make a big mess and your parents won't like it!). Or you can stick

decorations

from the craft store on to your rock using Elmer's glue.5.

Submit

your rock design by uploading it to the Facebook page and/ or emailing it to racetotherock@jevaia.org. Make sure to

tag it with the category

you've entered it in: #inspirationalR2R, #petrockR2R, #abstractartR2R, or #seasonalR2R.THAT'S IT! HAVE FUN!!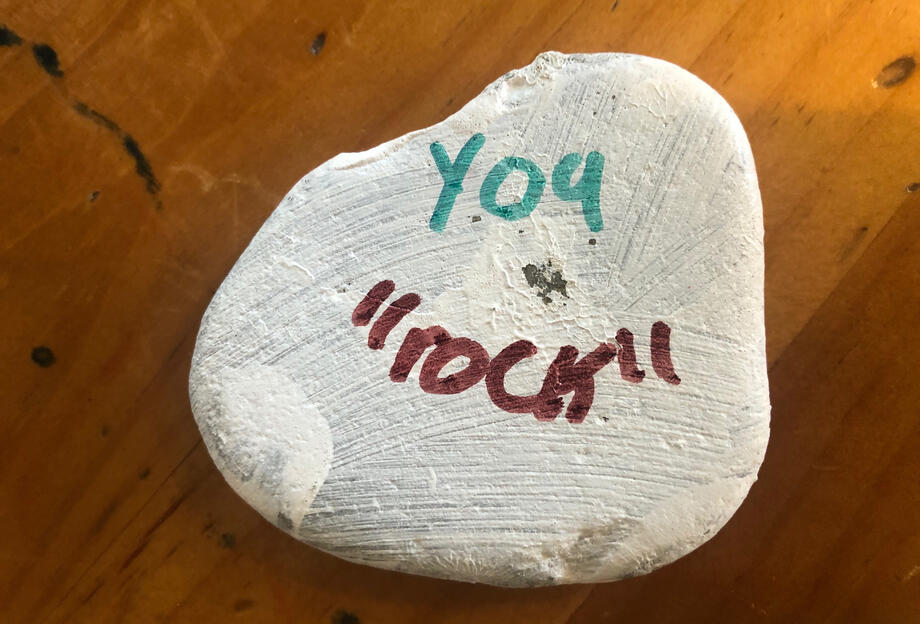 18th Annual Thanksgiving Day Event
Whether you're an R2R veteran or joining us by virtual format, we invite you to be part of the crazy, happy, totally fun R2R world. Here's how it works:
1. Register for the Race .
100% of your donation benefits Jevaia Foundation. If you can donate the race fee, we're so grateful. We have also added a "donate what you can" option, knowing many families have faced unexpected difficulties in the past few years. All are welcome!
Now follow on Instagram, where the online action will happen.
2. Download a free run-tracking app.
You'll use this to record your 2.6 mi / 3.87 km run / walk / skate / hop. Try Strava, RunKeeper, Mapmyrun, Runtastic, RunGo, and many others. Each runner in your group will need to carry a smart phone with a tracking app to record their own time.
3. Prepare: Paint a Rock, Dress Up, and Find Friends.√ Enter the Rock Painting Contest! (Tips here). Winning Rocks will be chosen for: 1) Inspiring Rock 2) Pet Rock 3) Abstract Art Rock and 4) Seasonal Rock Email entries to racetotherock@jevaia.org any time until
8pm on Nov. 24 Eastern Standard Time. Rock entries are unlimited!√ Run with friends by signing up for a run time or neighborhood with other Rockers around the world, here.√ Dress up! Categories are ROCKSTAR and CULTURAL HERITAGE. Please read costume guidelines here.√ Carry an item that represents a cause you care about. Run with a poster, wear a t-shirt, or be be creative and upload or email your photos.√ Please note that only rock-painting is a contest. All social justice statement photos and celebrations of cultural heritage will be shared through social channels. (Wondering what happened to our long-standing costume and "useful item" contests? Read more here.)
4. RUN!!! Adults 2.4 miles / 3.87 km. Kids 12 and under .6 miles / .96 km.
√ Complete your run any time between Nov 21 and Thanksgiving Day at 12:30pm Eastern Standard Time.
√ Take photos to share.
√ Make sure to capture Cultural Heritage and Rockstar dress!
√ Share images of your social justice statement causes with the world and with us.
√ Make sure that each runner carries a tracking app, and screen shot your run and time at the end.
5. **Upload a screen shot of your run distance and time to instagram using hashtag #jevaiar2r2022.